No, it's not what you think...

A little background about my class. I teach 4th grade and my class mascot, for the last few years, has been the Monkeys! (and sometimes they live up to their names!) ;) Our class color is purple.

So, as we approach the end of the school year, I want to send my volunteers a small gift of appreciation.
Enter... Papertrey Ink's Limitless Labels.
Warning: I'm about to sound like a commercial for this stamp set!

It's so wonderful! I'll admit... when I first became a PTI fan and learned about nuggets and labels I thought, "Meh... big deal. Labels on chocolates." But let me tell you... these are SO easy (once you mass produce the labels!)...

What you'll need:

1. The Limitless Labels stamp set from Papertrey Ink. (Obviously! ;) )

2. Labels that are 1" x 2 5/8" (I got mine at Office Depot - package of 25 sheets, 30 labels per sheet = 750 labels).
3. Various ink colors, etc.
4. Hershey's Nuggets (found mine at Wal-mart, but have seen them also at Target). They go for about $3.00 for a bag (which contain, on average three dozen nuggets).
5. Optional: A hinged tin box (with window). You can get these also at Papertrey Ink for $2.00 each. I already had one (from a previous gift) so I wanted to try it out. I also have coming some from this company (Specialty Bottle) and here's the specific
link
. You can also use small bags, etc. to package your nuggets. :)
Of course, since it's Papertrey Ink, there are MANY versatile ways of making the labels.

What I did was stamp a sheet of 30 labels one way. Another sheet of 30 labels would be a different way... then I would alternate wrapping each candy with each label.

Here's a sheet of labels I did. (This takes the most time, in my opinion):

And here's a close-up of one of the labels: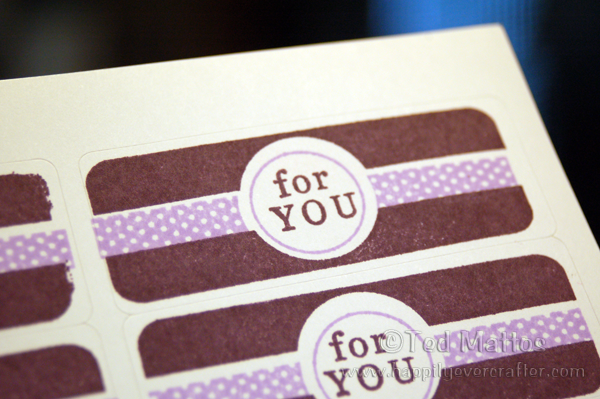 You then just peel off the label and simply wrap it around one of the Nuggets like so: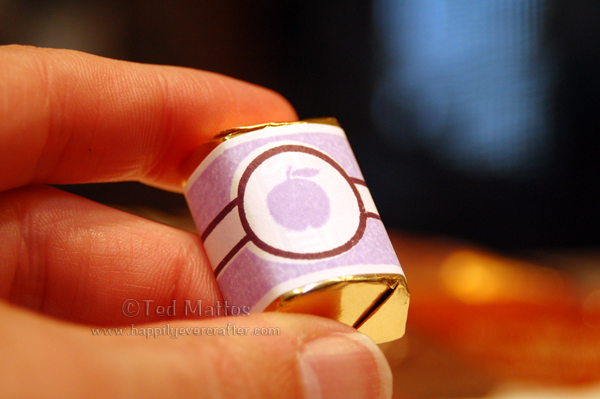 (Obviously this is a different style label I made :) )

I then placed 12 in the tin, alternating labeled chocolates: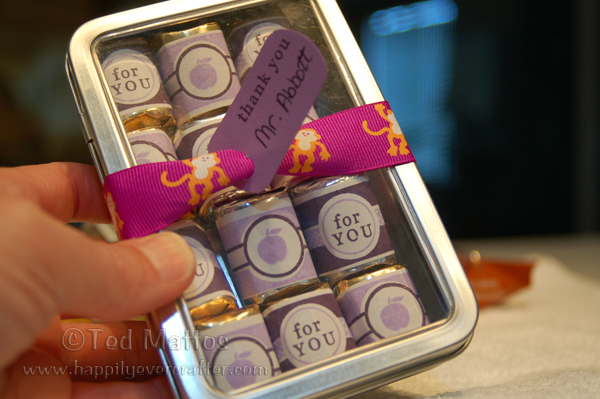 Then I wrap it around with some cute Monkey ribbon I found at Michaels... included a thank-you tag with the volunteer's name...and I'm done!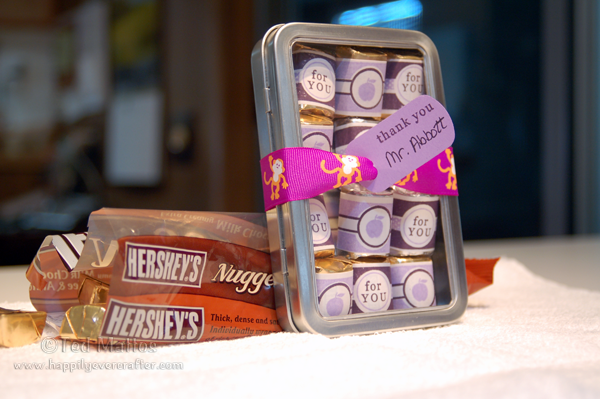 Also, here's a close-up of the cute monkey ribbon!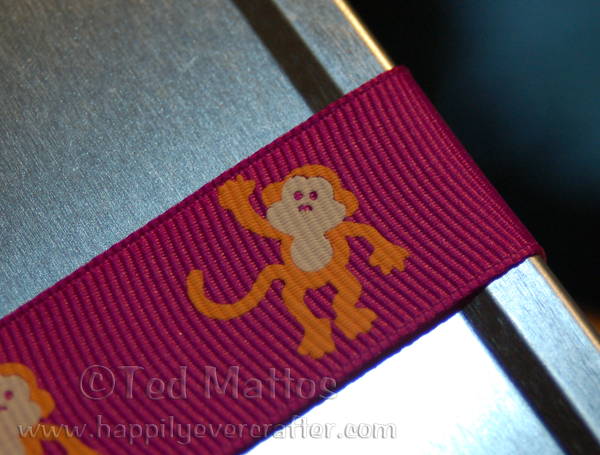 It's not a perfect purple, but beggars aren't choosers. :)

Overall, I'm happy with the results. I only have about 12 or 13 more of these to make! But, as I said...they really aren't terribly hard and I think the volunteers will be pleased with them.

Thanks for looking and/or commenting! :)
Recipe
:
Stamps
: Limitless Labels (Papertrey Ink)
Ink
: Elegant Eggplant and Lavender Lace (both Stampin' Up!)
Paper
: Lavender Lace (Stampin' Up!)
Other
: Zots; Key Tag Punch (Stampin' Up!); 1" x 2 5/8" mailing labels (Office Depot); Ribbon (Checks, Dashes, Dots - Michaels); Hole punch; Hershey's Nuggets, Hinged Tin Box